Disinfecting and Protection Services
Our Disinfecting Specialists are here to help when needed!
Contact us today at disinfect@fourparkavenue.com or call (425) 821-3687 for more information!
Disinfecting Solutions For Everyone
Homes, Condos and Apartments
Fitness Centers, Gyms, Retail Spaces
Commercial and Office Spaces
Community Living Centers
Schools and Daycare Facilities
Transportation Vehicles
Restaurants
Churches
Benefits of Your Commitment to Healthier Places
Enhance your safety pledge
Limit revenue loss and staffing disruptions by proactively addressing exposure possibilities and outbreaks
Improve your cleaning efficiency and effectiveness
Kill Covid-19 and 99.999% of all viruses and bacteria, including the common flu
Provide peace of mind to customers, employees and family
Help enable more SAFE community activity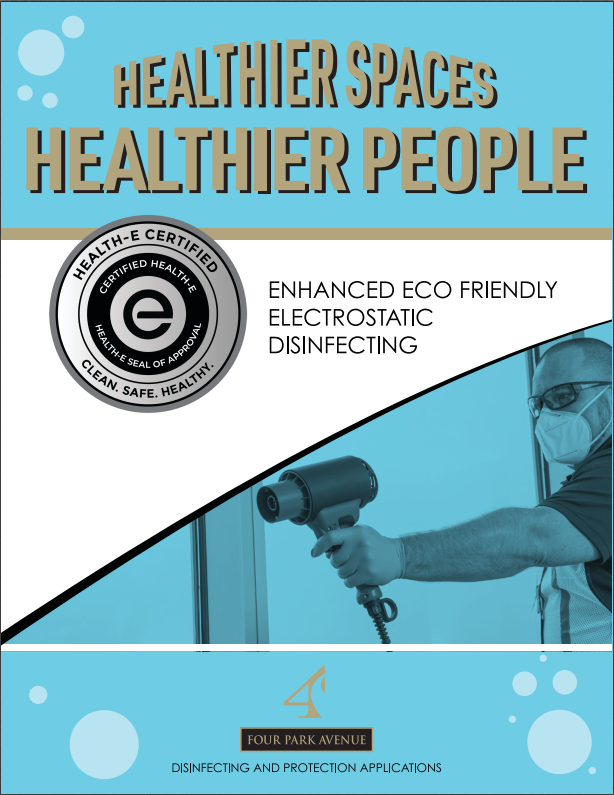 Disinfect
We can help you strive for a healthier living and work environment. Here at Four Park Avenue, we have made a significant investment into the most powerful and cost effective disinfectant treatment system available. Our patented electrostatic disinfection system applies disinfectant solutions to surfaces using electrostatic induction charging that destroys 99.9999% of the germs that include Covid-19, VRE, E-Coli, the common flu and more on contact. Completely non-toxic and safe/effective with no adverse effects on the environment. Our application is a disinfection process that extends within all your interior areas and every hard surface, including all high touch areas. If you touch it, we sanitize it for everyone's protection!
Protect
Even the best disinfectants do nothing to protect future contamination. Extend the disinfected area's lifespan with our Antimicrobial Protection application that prevents future contamination up to 30 days. We use a water-based solution that contains no harsh chemicals or solvents that is environmentally friendly. The process is accomplished by forming a nano-scale biostatic layer on treated surfaces. It consists of millions of nano-based carbon spikes that self-assemble in layers and bond covalently with the surface. The nano-spikes are very durable and stay bonded to the surface through touching, cleaning and normal use. Our protection protocol provides an additional layer of protection to fight germs in the future.